Amber Butchart, author of Theatre of Fashion, talks to Contemporary Vintage founder Oliver Vicars-Harris about the role that digital marketing and social media play in the publicity life-cycle of creative events.
MGM Press Room, from the National Portrait Gallery 
Running arts events can be tough. While niche programming is a great way to spread your brand ethos and encourage like-minded conversation, it can also be difficult for small companies to make the publicity push necessary to ensure sell-out success. Oliver Vicars-Harris is a London-based digital and cultural entrepreneur who specialises in using bespoke approaches rather than 'off the shelf' solutions to these problems, especially with regard to the connections between digital marketing, social media and experiential strategies. His client list ranges from the BFI to the Tate, Roundhouse, V&A and Louis Vuitton, and he's recently set up the creative collective Contemporary Vintage with the aim of connecting audiences to culture in new and unexpected ways. He began his career championing digital access to art through initiatives such as the BAFTA award winning Tate Online, and by his own admission his primary concern has always been "democratising access to culture." For their most recent project, Contemporary Vintage curated a Late Shift Extra event at the National Portrait Gallery in conjunction with the Glamour of the Gods exhibition of Hollywood studio portraits. Here we get the breakdown of Oliver's digital marketing strategy, along with his thoughts on the importance that social media plays within the cultural sector.
"Digital is central to what Contemporary Vintage does and we are focussed on how this connects with the physical. We're interested in the relationship between old and new modes of communication and in telling old stories in new ways." -
Oliver Vicars-Harris
The Event 
The Glamour Factory event itself was a perfect vehicle to encourage both film aficionados and vintage fashionistas through the doors of the gallery. It was an ambitiously spectacular experience that transformed the National Portrait Gallery into the 'NPG Film Studio'; the dress code was black and white, and the aim was to put glamour under the microscope to uncover how the Golden Age of Hollywood was manufactured and how image continues to be manipulated today. Set up to support the Glamour of Gods exhibition of Hollywood studio portraits from the 1920s - 1960s, Contemporary Vintage ensured they brought both cultural and scientific perspectives to the evening, as Oliver says, "very much exploring all of those issues around what goes into creating a star." Seven star-making departments were developed to transform guests into Hollywood icons, ranging from immortality tours to talks on gender illusion and beauty ideals, and featuring vintage make overs and hair sketching classes. The event was a phenomenal success, attracting nearly 5000 visitors and breaking all gallery records. You can see the full programme here and download the 'NPG Star Contract' here, as well as read more and see a short video at the Contemporary Vintage project page.
"The aim was to get in a new, young, diverse audience to transform the whole experience of the gallery... [As well as creating] lots for people to think about that took them well beyond the traditional visit to the exhibition and looking at the historic photographs." - Oliver Vicars-Harris
Facebook
The idea was to look beyond the gallery's traditional print-based marketing to find a campaign that was quick but would still make an impact. The first port of call for event promotion has to be Facebook, which as Oliver states, "immediately creates potential for a viral ripple of interest." Contemporary Vintage had the benefit of being able to capitalise on contacts their partners already had (their event partners ranged from DJ duo the Broken Hearts, to Guerilla Science, cult make up brand Illamasqua and Hendrick's Gin), resulting in over 4000 Facebook invites being sent out. As I mentioned in a previous post, working with people who already have a network of followers will open up that network to you which is a great way to increase exposure. The National Portrait Gallery Facebook page was also instrumental in the follow-up to the event; a gallery of event pictures was posted so guests can share and tag themselves and their friends. Vintage-style studio portraits were also taken at the event and people were actively encouraged to follow this up post-party, creating brand-awareness and longevity for the event long after the doors had shut and the guests had all gone home.
Photobooth set up and images. See more at the Photobooth Out of Order site or the NPG facebook page 
Twitter 
Twitter was used pre-event and during the event to start conversations and generate interest in the topics surrounding Hollywood's Golden Age. Here's how the strategy panned out:
A specific event Twitter feed (@NPGGlamour) was set up to work alongside the @NPGLondon account to spark interest and pull focus on the event itself

This was used in the event run-up to provide relevant content such as beauty myth-busting strategies and introducing event partners into the conversation and interacting with them to increase followers and tap into their networks

The promotional software tool Pluggio was used to monitor who was talking about areas such as glamour, photography, film and fashion, offering opportunities to engage with these discussions
Depending on the plan you sign up for, Pluggio can do the following things:
Help you to build followers by identifying people to follow through location and keywords

Provide information on how many people click through your links

Act as a central control centre for Twitter; it constantly flags up content such as blogs and articles that are related to your event that you can then tweet to show you're engaged with the subject matter

Schedule tweets, which is great when you don't have time to tweet continuously in the run up to your event

If you're interested in Pluggio software, the minimum is $29/month for an agency account. Or to manage just two Twitter accounts it can be as little as $9/month with the Power User plan. You can also sign up for a free 60 day trial
"We made sure we kept the feed constantly lively and drip fed with new bits of content in relation to the upcoming event to build a sense of expectation about the event." - Oliver Vicars-Harris 
During the event, Twitter was put to use through innovative strategies of mixing old and new media:
Vintage Twitter Bureau: an old typewriter was set for guests to write tweets (two lines of type) on the subject of their scandalous aspirations or glamorous aspirations. A vintage-styled secretariat picked the best and tweeted these from a laptop in typewriter case to the event Twitter feed which was projected onto the wall. Not only was this hugely popular due to the tactile quality and retro nostalgia (something that helps with sales of Lomography cameras), but was also a pertinent comment on the fact that scandal and gossip has always surrounded celebrities, it's only the medium that's different.  
Gallery-specific hashtags: these were placed next to certain paintings in the collections that referenced themes of the event to bring the old and new content together, with the aim of extending the gallery's "traditional exhibition message out to other media." (Oliver)
Make sure all content is relevant and don't be afraid to start conversations or ask questions - interactivity is key

Other digital tools used:
Bloggers: ignore the blogosphere at your peril! Consumers today are looking for an authentic voice away from traditional media. Consider who are the best placed bloggers for your event and how you can pro-actively connect with them, and use your social media platforms to broadcast anything they write about event. As well as guest bloggers, Contemporary Vintage benefited from partner blogs such as the Guerilla Science blog and the Broken Hearts blog.
The foundation point for any digital campaign is your website, it gives it authority and confidence that the event is linked to a legitimate organisation. Any hype generated through social media must be linked back to something solid. You can link these two areas by embedding social media widgets within your website; for example the Glamour Factory page on the NPG website showed the Twitter feed and Facebook wall so cross-feeding was constant.
Newsletters are also important, especially if your event partners can send them out to extend the reach through their contacts. Providers like Mailchimp or YourMailingListProvider are relatively cheap and can often provide detailed stats on who's opened it and who's clicked on links. If you link it to your website you should also be able to see a clear correlation between your marketing campaign and traffic on your website.
Competitions can often help to engage people with the subject area, as well as being a great way to secure email addresses for mailing lists, Facebook 'likes' or Twitter followers. Contemporary Vintage ran competitions through make up brand Illamasqua and through the Broken Hearts Jazz FM radio show to generate interest in the run up to the event.

Key Takeaways:
As Oliver says, "social media is fundamental now" in promoting events. Especially if you're keen to attract a young, fashion or arts-friendly audience who may not respond to traditional marketing anymore - it's vital to get people talking to each other about it.

Traditional publicity always helps, (Glamour Factory also had mentions in the Telegraph, Evening Standard, BBC and Time Out) but digital media now functions as 'word of mouth' advertising and feels more authentic.

Set up specific Twitter feeds and target audiences very carefully; be aware of your audience and who your potential audience could be.

Creating an event-specific Twitter account means you can build on that following for each new event you put on, and target different audiences accordingly.

The majority of Twitter followers came not from the National Portrait Gallery feed but through the event partners - especially make up brand Illamasqua who have a very strong presence online. Make sure you partner with active people!

The key to any social media marketing strategy is to use the tools yourself. Oliver advises, "use them actively and start to understand their power." Look at how other people use them - platforms like Twitter look simple but have subtle nuances that need to be understood to be a success.

Don't be afraid to innovate - use social media during your event in unexpected ways.
It's important to measure online activity at the start, throughout your campaign and at the end. Web traffic, Twitter followers, Facebooks attendees/likes - these are all measures of your success and are key in terms of planning the way you use these tools in the future.
Above all, make it fun! If you're engaging with the subject and having a good time, others will too.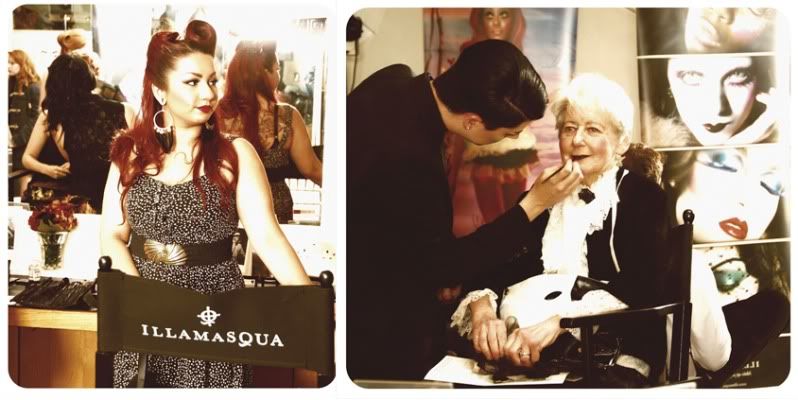 See more make-overs at the Illamasqua blog